My Walmart Schedule.
How do I View my Walmart Schedule with the My Walmart Schedule App and the WalmartOne App?
The My Walmart Schedule app is available at the Google Play Store, and at the Apple App Store.
Note, that you can only view your work schedule/shifts with this app for now. But, from November 2019 a new version will be rolled out. The new My Walmart Schedule app will allow all Walmart associates to view schedules, swap shifts with other associates, and pick up unfilled shifts.
The My Walmart Schedule App is available for all Walmart Managers and Walmart Associates in stores using the new My Walmart Schedule system. The app provides details of your schedules, approved time off and it allows associates to pick up unfilled shifts at any Walmart store.
Walmart associates can view their schedule by the week. If you click on the calendar icon to view the whole month, then it shows a dot over the number on the days that you work.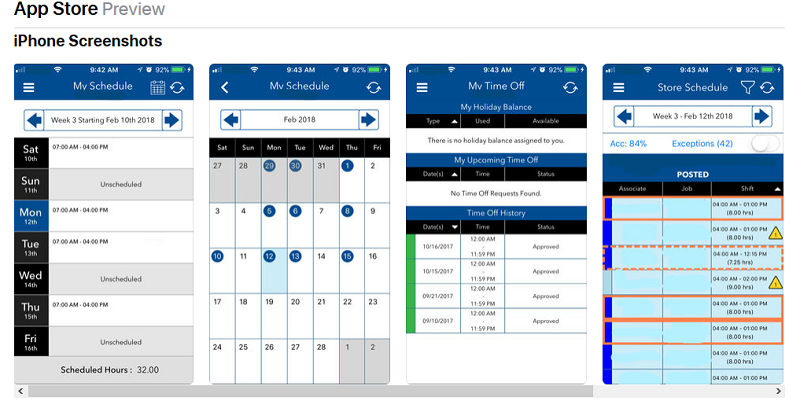 My Walmart Schedule App Download Links.
My Walmart App at the Google Play Store at:
https://play.google.com/store/apps/details?id=com.walmart.wfm&hl=en
My Walmart App at the iTunes App Store at:
https://itunes.apple.com/us/app/my-walmart-schedule/id1268834984?mt=8
To view paystubs, benefits, contact information and more, you will have to download the complete WalmartOne app, or WM1 app.
WalmartOne Schedule.
How do I view my Walmart Schedule on the www.Walmartone.com website?
You do not need to download the My Walmart Shcedule app or WM1 app to view your work schedule online from home. You can also access your schedule on Walmartone.com, now One.walmart.com.
Simply got to One.walmart.com, click on the Walmart Logo and Sign In.
Enter your WalmartOne User ID and Password.
Once logged in, find "View Full Schedule" at the top of the page, and click on the link.
The My Walmart Schedule App – What is it?
Watch this video for an introduction to the new MyWalmart Schedule app.
My Walmart Schedule App – Reviews.
What is your experience with the new MyWalmart Schedule app, and the older WalmartOne app?
The reviews on the Google Play and iTunes App stores are very underwhelming, so we are wondering what the exact issues are that people are experiencing.
Share your thoughts in the comment section.
Automagic WM Schedule Tracker.
One Walmart Schedule app that we can recommend is the Automagic WM Schedule Tracker App. If you tired of checking WM1 every day for schedule changes, then install this The Automagic Walmart Schedule Tracker app. This app checks your schedule on WalmartOne, and automatically updates your phone's calendar with your shift and shift changes.
The app is viewed 4.6 out of 5 on Google Play Store, and can be downloaded here.